The front desk is the hub of your hotel. It's where you greet guests and make reservations. It's the brain that organizes your housekeeping and calendar.
But your front desk isn't just a piece of furniture. It has to be digital as well as physical. Those two sides working together are the key to maximizing efficiency.
Sirvoy is where your digital front desk thrives. Our front desk features make managing your hotel easy, from any device, anywhere you need; on-site or even in the comfort of your home.
Whether you're a Sirvoy pro, or just starting your partnership with us, this guide explains how to use the front desk features in Sirvoy, how to make the most of them, and the benefits they bring to both you and your guests.
New to Sirvoy?

– Try a 14-day free trial and test all Sirvoy Pro features.

– Follow our setup guide and start accepting bookings in minutes.
What is Front Desk Software?
Front desk software is the technology hospitality businesses use to run their day-to-day operations. It expedites task management, guest communications, record-keeping, and more. It's a key component of Hospitality Management Systems (HMS) like Sirvoy.
HMS also includes:
Channel Managers
Booking Engines
Payment Modules
And more!
How Does Front Desk Software Benefit My Hospitality Business?
Essential tasks are automated and streamlined with front desk software–cutting down errors and boosting efficiency. What once took hours (even days) can be accomplished in just a click. The time that Sirvoy saves you is time you can reinvest in caring for your guests.
Improves Efficiency – By automating time-consuming tasks.
Reduces Errors – By using high-accuracy automated processes.
Lowers Costs – By easing the workload for you and your staff.
"We switched to Sirvoy last year and love how user-friendly and comprehensive it is. After researching many reservation systems Sirvoy was the only one that covered all our needs and we couldn't be happier."

– Jenna Fisher, Owner of Whispering Springs Wilderness Retreat in Grafton, Canada.
How do Sirvoy's Top Four Front Desk Features Help You?
Our front desk system packs a punch; let us show you the big hitters.
1. How to Create and Modify Bookings In Sirvoy
New bookings are the lifeblood of hotels. Guests can create them using your booking engine or through booking channels, like Expedia, Booking.com, and many others. Connect Sirvoy to those channels and the bookings your guests create will automatically register in Sirvoy.
But 40% of bookings are created by you and your staff at the front desk–which is excellent for business. Bookings made directly with you are commission free.
How to Create Bookings
There are two ways to manually create a booking in Sirvoy.
On the New Booking Page
Choose the check-in and check-out dates in the calendar dropdown menu
Specify the number of guests
Click "Search" to see all available units that meet the date and guest count
Select the unit the guest would like and select any extras
Click "Next Step"
Fill in guest details
Click "Book Now"
On the Calendar Page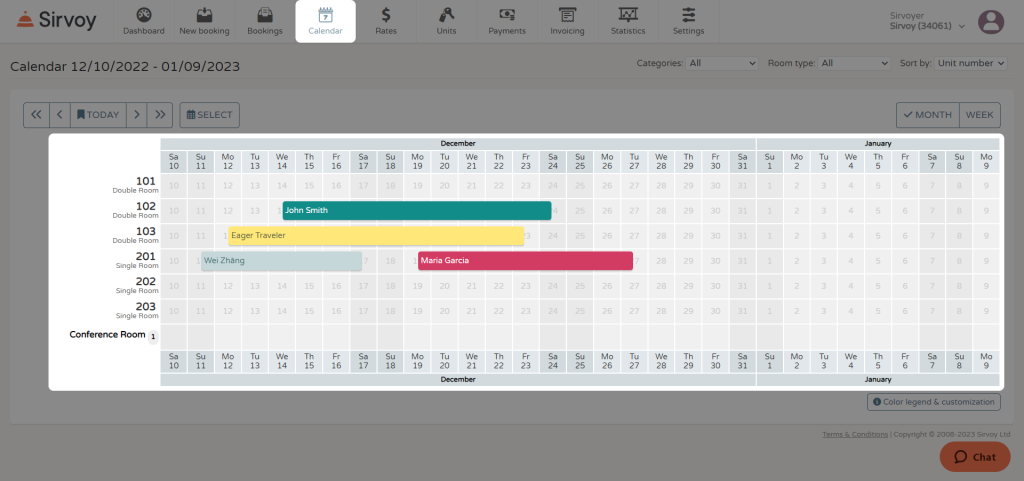 Click the intersection between the unit you want and the check-in date.
Specify the number of guests and the check-out date.
Click "Search" to open a shortcut to a new booking with the above data pre-filled.
Adjust the pre-filled selections if needed then click "Next Step"
Fill in guest details
Click "Book Now"
How to Modify Bookings
Hotels are dynamic–everything is in motion. Once a booking exists, changes are inevitable. Sometimes guests cancel, want to move rooms, extend their stay, or ask for any number of other modifications.
To handle these changes, go to the booking details page for each reservation.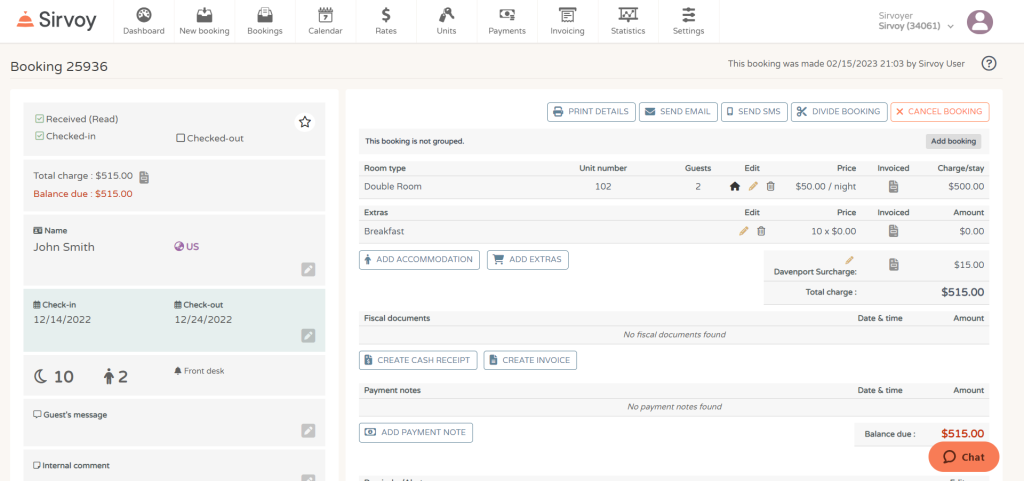 To access a booking details page:
From the booking details page you can:
Set up alerts for new bookings so it's easy to stay informed about upcoming arrivals.
Sorting through a huge pile of bookings is a nice problem to have, but can still be a problem. So we've made it a breeze to search for bookings in the dashboard or the booking page.
2. How to Use Sirvoy's Calendar Page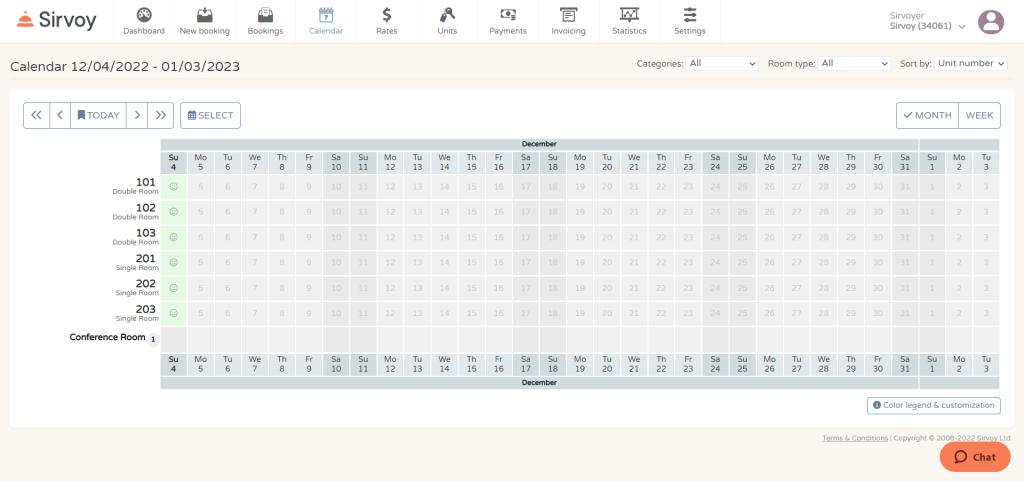 The Sirvoy calendar page is designed with efficiency in mind. 85% of employees say they spend 1 to 2 hours every day searching for the info they need.1 With the calendar page, the information most critical to your accommodation is in one easy-to-find place.
At a glance, it provides an overview of:
Bookings
Units
Limited-number extras
Housekeeping
But it goes beyond that. The calendar page is packed with features to make viewing, organizing, and modifying that data easy.
Displaying Data:
Managing Bookings and Units
Organizing Data:
3. How to Use Sirvoy's Units Page & Housekeeping Features
The units page overviews the state of your units–whether they be rooms, campsites, yurts, or any other kind of accommodation. For any given day you can view current booking details for your units and the status of their housekeeping activities.
Haven't Set Up Units Yet?

– Check out our setup guide to master the basics in minutes.
Navigating the Units Page
Explore the units page in two ways.
Date Navigation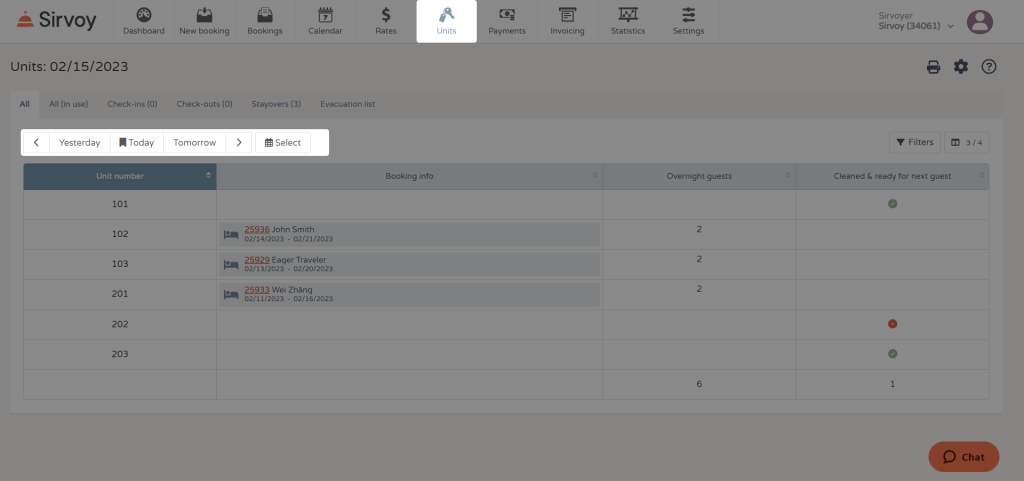 Use the units page to check hotel activity in real time–has room 101 been cleaned? Who's staying in room 102? Has 203 checked out yet? But also use it to look at past and future conditions.
Use the navigation tool to move forward or backward one day at a time, or click "Select" to view a specific day in the past or future.
Tabs and Filters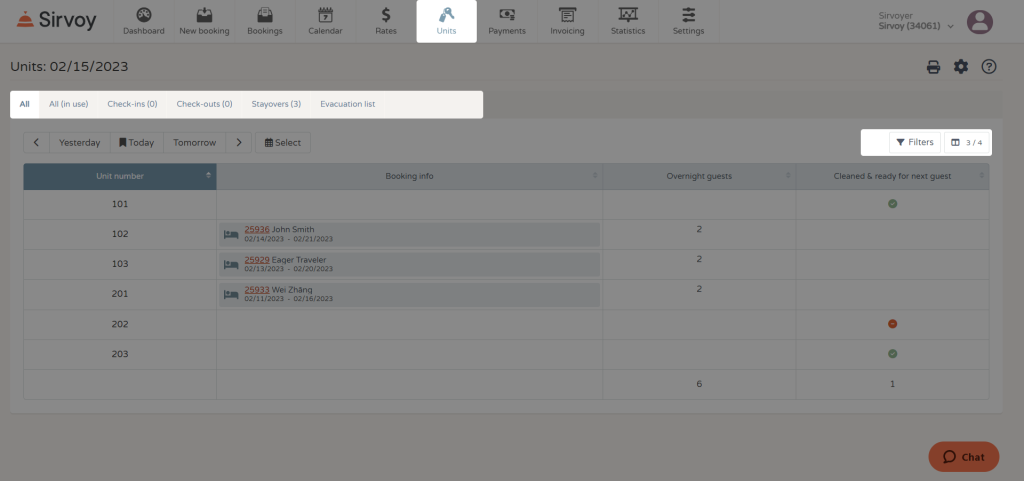 See only what you want by narrowing down what's displayed with two methods.
Use tabs to choose from:
All units
In-use units
Check-ins
Check-outs
Stayovers
Evacuation list
Use filters to further narrow units by:
Category
Cleaning status
Room type
Using Housekeeping Features On the Units Page
Housekeeping has a tremendous impact on guest satisfaction. 86% of hotel guests cited cleanliness as their top criterion when reading online reviews.2 To effortlessly manage cleaning and other important tasks, look no further than the units page.
Setup and track housekeeping tasks:
Using the Units Page in an Emergency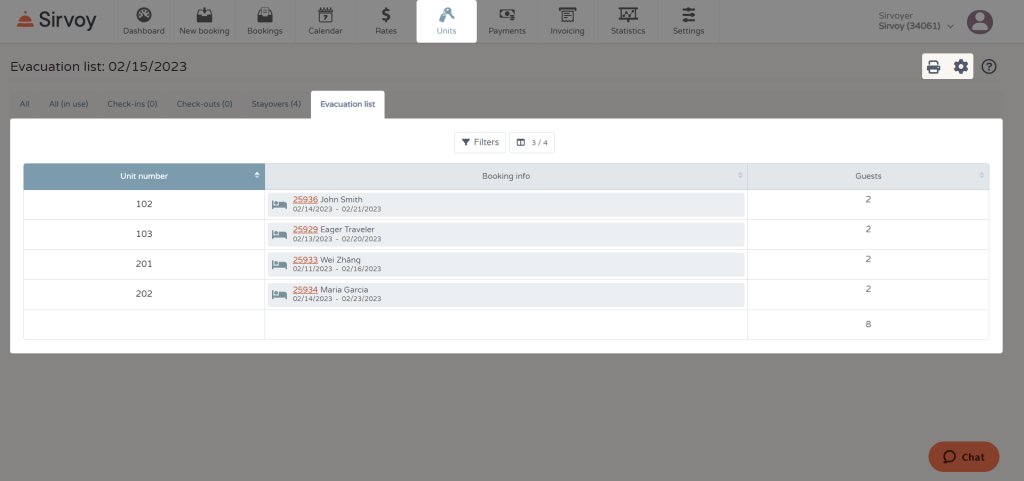 Though we hope it never comes to it, as a good host it's your responsibility to keep guests safe in an emergency.
The evacuation list, accessed on the units page, has an up-to-date record of every checked-in booking.
View it by selecting the "Evacuation List" tab.
Get a printable PDF of the list by clicking the printer icon while the "Evacuation List" tab is selected.
Change the format of the evacuation list by clicking on the settings gear.
4. How to Communicate With Guests in Sirvoy
Guests expect clear communication. 88% of customers say the experience a business provides is just as important as the product offered.3
To provide the best customer experience for your guests–Sirvoy makes digital communication easy.
How to Use Templates to Automate Guest Communication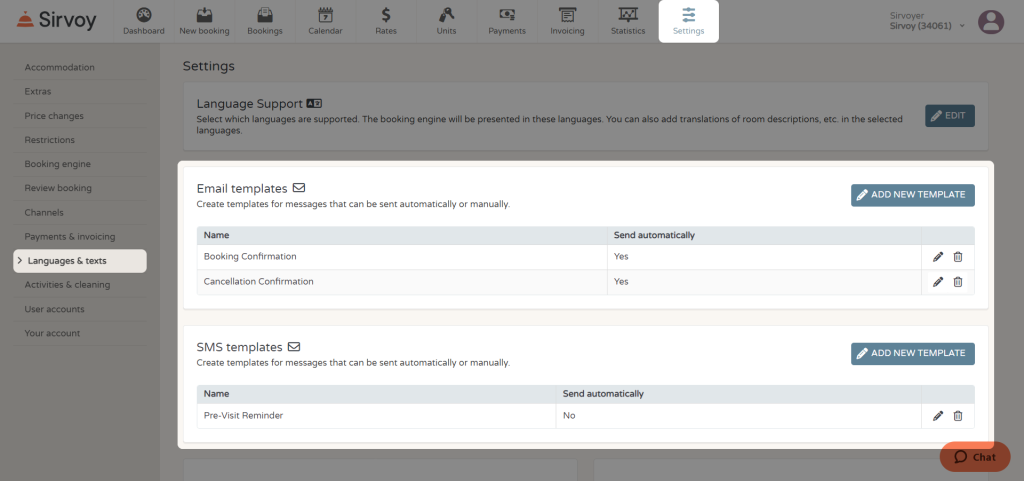 Templates make regular communication with guests nearly effortless. Create templates with pre-written messages and predetermined sending times that can go out automatically without human input.
Such as:
Confirmation emails for bookings or cancellations.
Surveys or coupons sent after check-out.
Reminders about safety and housekeeping procedures sent before check-in.
Local attraction guides sent after booking to help guests plan their trip.
Automatic emails based on room type categories can help further tailor your messages.
To create a template:
Go to Settings -> Language & Texts.
In "Email Templates" or "SMS Templates," click "Add New Template."
Name the template for internal use.
In the "Send Automatically" drop-down, select the conditions for automatically sending the template.
Fill in the message content for each language.
Click "Save."
Need inspiration? We've created sample templates you can use as a starting point.
How to Manually Send an Email or SMS to Guests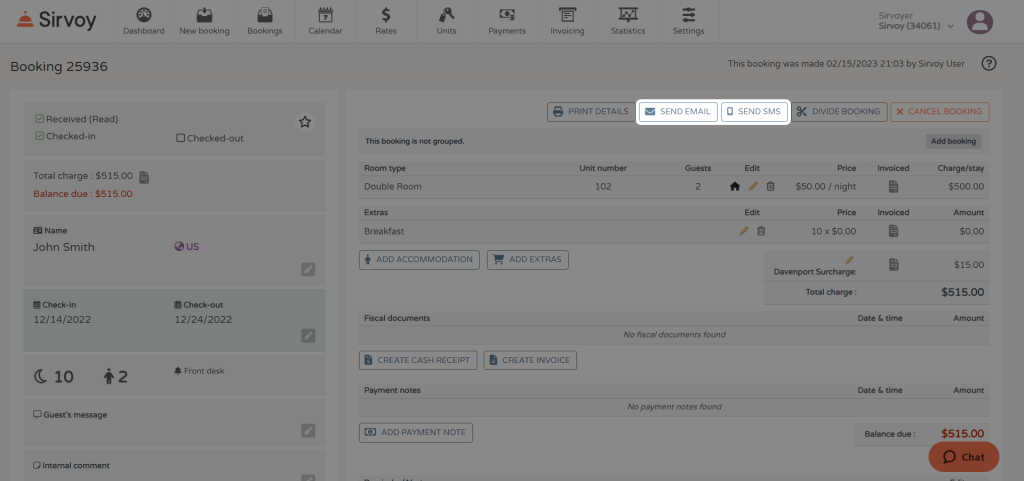 Communicate with guests directly from their booking details page.
To access a booking details page
Inside a booking details page:
Click "Send Email" or "Send SMS." If an email address or phone number is already on file for the booking, they will auto-fill.
Select a template in the "Choose Template" dropdown menu or type in the content.
Click the send button when ready.
Sent messages are recorded in the "History" section of a booking details page. From there you can preview the message, see who sent it, when it was sent, and if it was received.
You can also:
How to Personalize Guest Communications
Just because your messages are automatic doesn't mean they need to be robotic.
Use your guest's name, the specific room they booked, their stay dates, and more to create a personalized message.
Your guests want to feel special! 62% of consumers are "happy" and "excited" to respond to a personalized message.4
It's good for marketing. Emails with personalized subject lines are opened more than twice as much.5
But how can you do all that without time-consuming editing?
Sirvoy's placeholder codes have you covered. By inserting placeholder code into your templates, Sirvoy will automatically retrieve the matching information and put it into the message.
Placeholder code in a template:

Dear %firstname% %lastname%,

Thank you for your booking!

Placeholder code in action:

Dear Carl Anderson,

Thank you for your booking!
The help text on the template creation page lists the dozens of placeholder codes available.
Keep Up To Date With Sirvoy Features
Sirvoy's front desk is loaded with features–and we're enhancing it regularly. Sign up for our newsletter at the top of the Sirvoy blog to keep up with the latest developments.
The Sirvoy newsletter gives you:
The latest feature updates
Easy access to our newest content
Training webinar invites
And more!