Yes, Sirvoy gives you access to GDS via the integration between Sirvoy and SiteMinder GDS, BookVisit or myallocator.
The integrated SiteMinder GDS connection gives you access to Amadeus, Sabre, Abacus, Worldspan and Travelport. But SiteMinder also supports access to HotelREZ iHotelier, reconline and SynXis.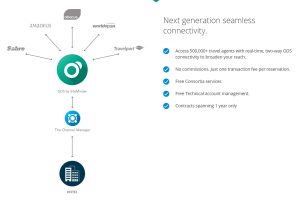 Myallocator, Cloudbeds' channel manager, connects to Reconline which offers GDS hotel distribution. Their connection makes your hotel available to over 450,000 travel agents worldwide for leisure or corporate travel.
If connecting Sirvoy to GDS using myallocator, you can connect your property through Reconline to Sabre, Amadeus, Travelport (Galileo, Worldspan) and Axess (Japan).
Connect Sirvoy with BookVisit to access major GDS's such as Amadeus, Sabre and Travelport.
What is GDS?
GDS stands for Global Distribution Systems, and is a set of regional and global networks of travel agents.