We're sure that most hoteliers wanting to increase their revenue would agree that booking channels are a great way to do just that. But the most obvious booking channels aren't always the best option for your location or your market. Whether you're running a hotel, hostel, or B&B you need to find the best fit for your hospitality business.
Your choice of channels can significantly impact your business for better or worse so with that in mind we've put together some tips to help you make the right choices.
Knowing who your guests are will help you to maximise the benefits of the channels…
What are My Options?
Are you running a big hotel designed for international and business travelers, or a small but cosy bed & breakfast perfect for a weekend getaway aimed at the locals? Knowing who your guests are will help you to maximise the benefits of the channels and not waste revenue trying to attract the wrong customer.
In Europe, the most popular booking channels are Booking.com, Expedia (also for North America) and HRS* while in Asia the most well known channels are Agoda, Ctrip, and makemytrip.com.
See the chart below displaying popular tourist destinations with their top booking channels.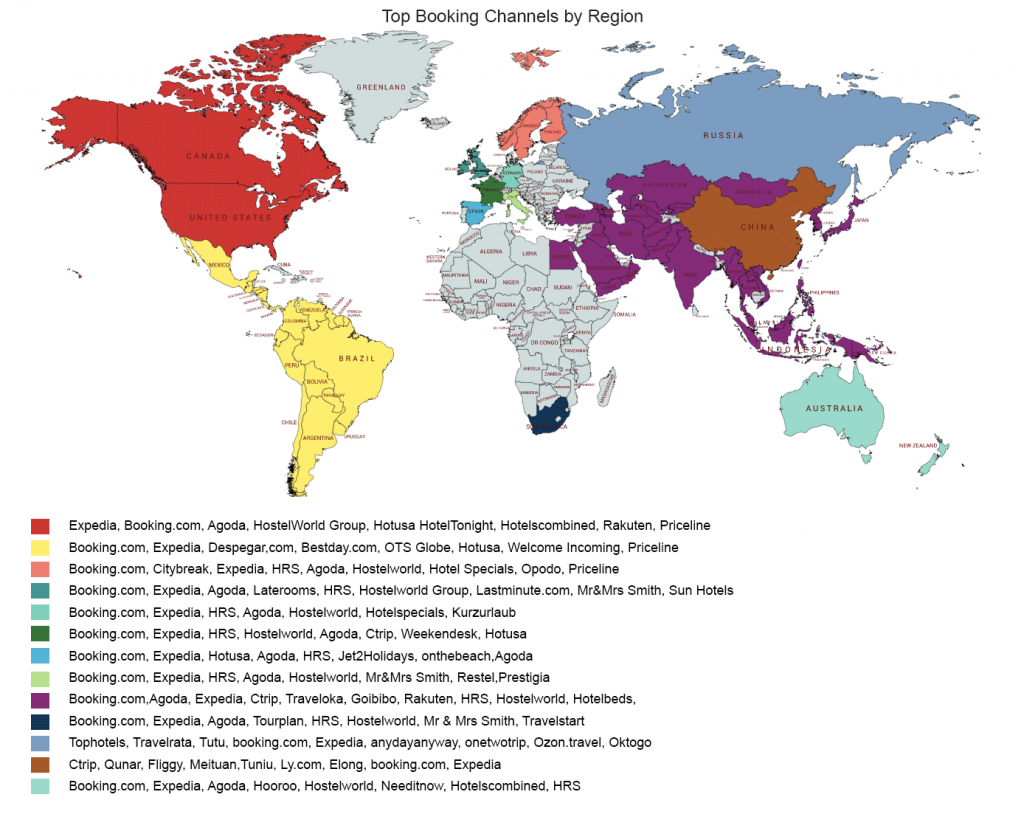 About PPC (Pay-per-click)
For the above mentioned OTAs you pay per booking, meaning they take a commission fee for every booking made. But for other channels there is also the option of PPC (pay-per-click).
One channel that uses PPC is TripAdvisor's TripConnect, which is a pay-per-click advertising opportunity where guests will be redirected from TripAdvisor to your hotel's booking page when they click on your business. Each month you are charged for the clicks on your listings page for the previous month – charges vary depending on the amount bid.
Another PPC example is that of Google Hotel Ads. This channel offers both PPB (pay-per-booking) and PPC, so you can choose either option and make a bid for your listing to be shown. This will result in your hotel being visible on a Google search, and whoever clicks on your hotel will then be redirected to the advertisers page to make the booking directly. You can read more about their requirements here.
What Kind of Business do You Have?
Sure, you can get away with adding any business on the channels, but it's good to know that some of them are focusing on more industry specific accommodation. Booking.com, Expedia and Hotels.com are all very known for hotels, but they also feature other kinds of properties like hostels, holiday homes, chalets, and campsites. As a guest there is the option to select your preferred accommodation after you've searched for your location.
For example, when you search for "Costa Rica" at Booking.com, it will mostly display hotels as it has around 1300 hotels in that area, but a user can take advantage of the filters to the left hand side which will narrow the search results based on property types.
In contrast there are channels such as Hostelworld.com which, as the name suggests, focuses more on hostels. People who are looking for a place to stay with the help of this OTA are definitely searching for a specific kind of accomodation.
If you're looking to rent your apartment, a cabin, a B&B, or just a single room, Airbnb would be a great pick. They're mostly into smaller properties and those that are usually privately owned.
What Channels Should I go for?
As we've seen the options are many and it can be hard to tell which booking channels will work best for you. So the best thing to do is to select as many relevant channels as possible and see which one provide you with the most revenue. Does that sound expensive, time-consuming and boring? Don't worry, we're here to help! As Sirvoy has an integrated channel manager you'll get access to all the booking channels at the same time, either directly or with the aid of a third party. And instead of having to make individual manual checks, they'll all be collected from the same place.
Through a two-way integration it will keep your bookings up-to-date no matter where the booking comes from and alert all the other channels that the room is booked and no longer available. Claim your free trial here to try out all these amazing benefits.
*Sirvoy won't have a direct connection to HRS until late 2020 but in the meantime you can still access it through Siteminder and MyAllocator as a third party.